126 N East Avenue, Panama City, FL 32401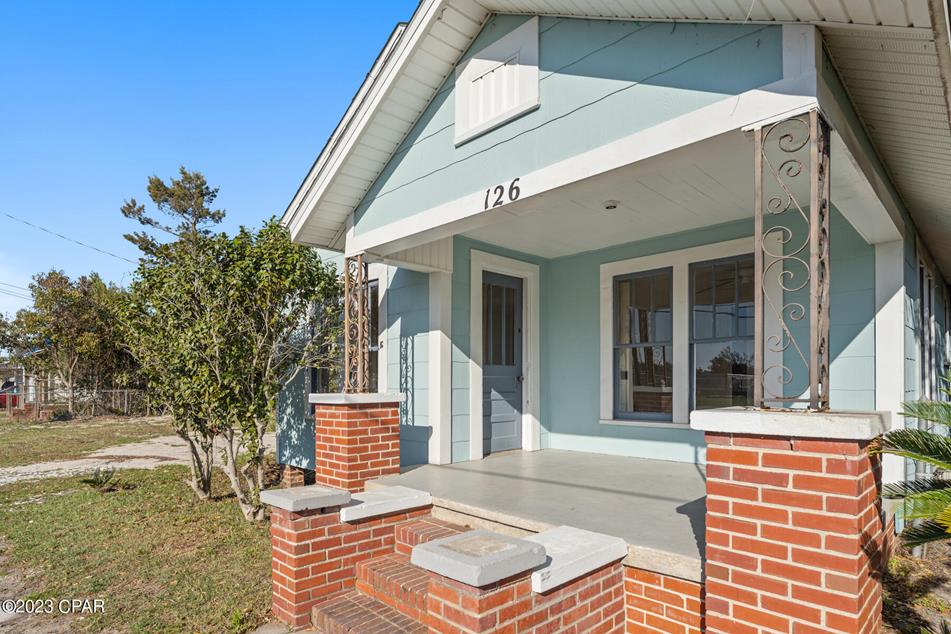 2 Beds | 1 Baths | 884 SqFt
Turnkey, no work needed, no landlord headaches!
A slice of Florida History! Adorable, historic Millville Cottage on a beautiful double lot with a public boat launch and the Watson Bayou nearby. Plenty of room for extras in the garage or spacious fenced yard with centuries-old Oak trees and legacy camellia bushes. This two-bedroom little cottage could be used as a primary home or rental and is loaded with historic charm. Ductless air conditioning, an electric fireplace, and original hardwood flooring will help keep you comfortable and make cleaning easy. Renovations like an updated bathroom and new roof since Hurricane Michael put this home with an effective age of 2002. The cute back porch leads to the garage and overlooks a large yard perfect for storing the boat or having a beautiful garden. About 1.5 miles from downtown Panama City.
---

The Buyers
We appreciate your consideration in helping us achieve our long-time dream of purchasing a home. Owning our own home has been a dream of ours for several years. In the past, no established credit, and credit in need of repair, has kept us from being able to get a mortgage loan.
We have a stellar rental history, and we have never been late with our rent since 2015. Unfortunately, perfect rental history is not the deciding factor for a mortgage loan. We have worked diligently to get our scores where they need to be, including paying off credit card debt, only to be let down time and time again. Our scores would be a few points short, then we would get the scores right, then the income would not be enough because of the way we did our taxes (unintentional, just ignorant of the proper way).
We started our family painting business in FL in 2015. In the past year we have established an LLC, opened a business checking account, hired an accountant, and are using Quickbooks to track and manage our business. Our dream is to grow our business and become a permanent fixture here in Bay County, with a solid reputation. One day we want to be able to turn the business over to our son, and then our Grandson.
We want a place to call our own more than anything we have ever wanted. We had just about given up when we met Erik, and we suddenly have hope again. We just want a place to plant our roots, and have something to be proud of to call our own and take pride in, something to hand down to our kids and grandkids when we are gone. If there was one thing we could wish for besides the health and well-being of our family, it would be to FINALLY own our own home.
Thank you again for your consideration,
Bobby & Jaime Montgomery
---

The Numbers
Money from Tenant-Buyer: $17,000
NET amount from Investor: $35,000
BUY: $160,000
SELL: $180,000
Cash Flow: $300/mo
ROI: 30%
TERM: Up to 2 years
PROFIT: $13,810
(Will vary depending on the interest rate we get)
---
Hybrid Real Estate Investing – A Better Way To Invest In Real Estate
The Hybrid REI Model Gives Real Estate Investors What They Really Want!

Cash Now: We bring you a property with a tenant-buyer already in place and ready to move in the day you close. They pay a non-refundable option fee to purchase the property. And the best part is you own the property and retain the tax benefits until the tenant exercises their option to purchase.


Cash Flow: We have vetted the buyer who has a good income and will be responsible for the maintenance and repairs, so no need for property management, and all of the cash flow goes to the bottom line.


Cash Later: Then you sell at the appreciated price when the tenant secures their own mortgage within a predetermined time frame (12-36 months) with the help of our team. They are now proud homeowners and your increased capital is freed up to do another deal!


---
Interested?
Please schedule a call with our team ASAP to discuss acquiring this deal. Our deals usually go pretty quickly, so please schedule with us now if you're interested.
Book a call with me at -> https://hybridrealestateinvesting.com/call or fill out the form below and we'll be in touch.
---
Want More Deals Like These?
---
Investor Referral Program
Who else do you know that might like to passively earn a double-digit return with income-producing real estate? With our "Investor Referral Program," you get a $1,000 referral bonus – And you get that for every deal they do with us, not just the first one!