1013 N Windwood Acres Rd, Batesburg, SC 29006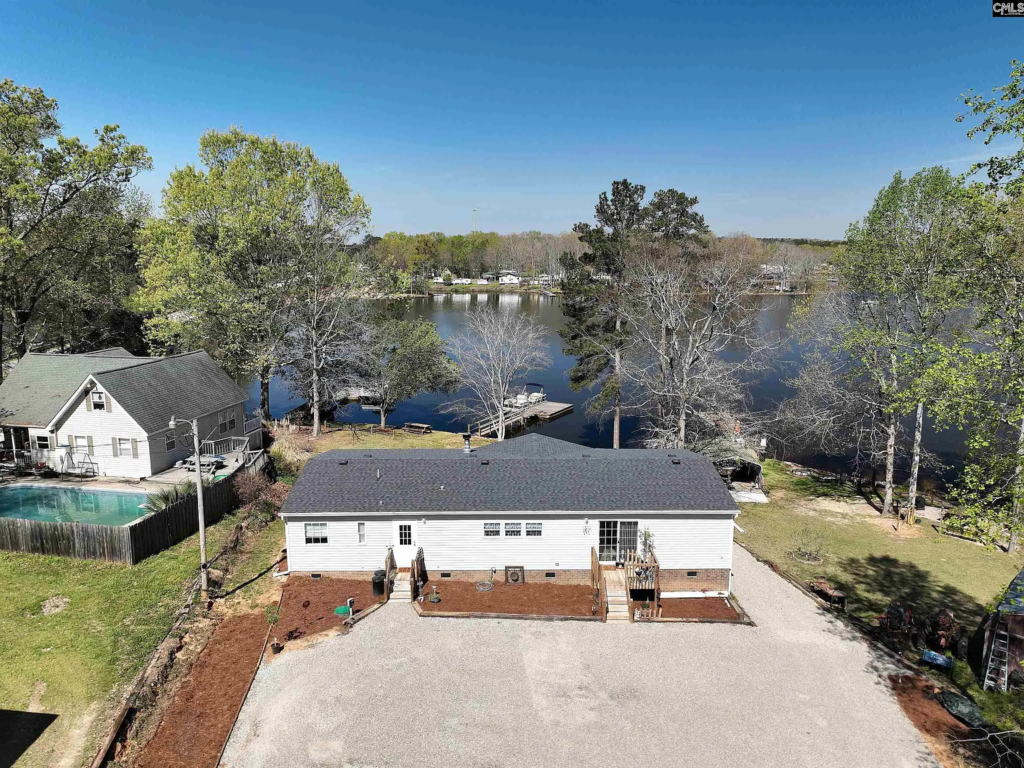 3 Beds | 2 Baths | 1,839 SqFt | 1.05 acres
Turnkey, no work needed, no landlord headaches!
BRAND NEW gorgeous Scott Built 2022 Modular home on a 1.05-acre lot. You won't believe the quality of this house. The Freedom floor plan has a large open great room and kitchen. The kitchen is spacious and has a nice stainless steel farm sink, stainless steel appliances, island with plenty of room for family and friends to gather around. Perfect for entertaining!
There are a lot of cabinets and a couple with glass fronts. Every room has a view of the lake except the laundry room. There are 3 bedrooms, 2 full baths, a large walk-in laundry room, vinyl and carpet flooring, tray ceilings, and crown molding. This home also comes with a brand new super nice floating dock with year-round water. Great location for those that love water sports where you will find smooth and peaceful coves. Also a great area for fishing. Sit outside by the fire pit and enjoy your favorite beverage. New gravel driveway with plenty of space for cars, boats, camper, etc.
---

The Buyer
Sold her home in Georgia and is moving back to South Carolina. She has enough from the sale to pay a significant portion up front with additional savings to pay the lease for 16 months.
She is selling 400 acres of land under contract for 1 million with closing in June which would allow her to cash out the investor.
She also has a job waiting for her as a CNA with Still Hopes to provide caregiving. Her fiancé is also moving back with her, their two children, and pets. He is from the area and has his original construction job lined up.
---

The Numbers
Money from Tenant-Buyer: $94,000
NET amount from Investor: $20,500
BUY: $450K
SELL: $508K
Cash Flow: $300*
ROI: 73%
TERM: 1 year
PROFIT: $16K
*We get that $300/mo doesn't sound exciting but that's equivalent to getting $1,500/mo in cash flow with a typical rental where you are a landlord with a tenant instead of being the bank for an owner.
Rent $3000/mo
25% for maintenance & repairs – $750
10% for property management – $300
5% for vacancy – $150
---
Hybrid Real Estate Investing – A Better Way To Invest In Real Estate

The Hybrid REI Model Gives Real Estate Investors What They Really Want!

Cash Now: We bring you a property with a vetted resident ready to move in the day you close. They pay a non-refundable option fee to purchase the property. And the best part is you own the property and retain the tax benefits until they exercise their option to purchase.


Cash Flow: We have pre-qualified the buyer who has a good income and will be responsible for 95% of the maintenance and repairs, so no need for property management, and virtually all of the cash flow goes to the bottom line.


Cash Later: Then you sell at the appreciated price when the resident secures their own mortgage within a predetermined time frame with the help of our team. They are now proud homeowners and your increased capital is freed up to do another deal!
---
Interested?
Please schedule a call with our team ASAP to discuss acquiring this deal. Our deals usually go pretty quickly, so please schedule with us now if you're interested.
Book a call with me at -> https://hybridrealestateinvesting.com/call or fill out the form below and we'll be in touch.
---
Hybrid Investor Contact Form
---
Investor Referral Program
Who else do you know that might like to passively earn a double-digit return with income-producing real estate? With our "Investor Referral Program," you get a $1,000 referral bonus!
---