Westwood Hills Subdivision Gallatin, MO.
The Westwood Hills subdivision is about an hour Northeast of Kansas City and was originally designed, platted, and recorded in 1972. The City of Gallatin approved the development at that time. Due to the passage of time, we will need to obtain the City's approval again, but the rules for such approval are minimal. Essentially, we need to coordinate with the utility company, and in so doing, the City will make the necessary approvals. Eleven of the original 53 lots were sold, and homes were built upon them. 42 lots remain to be built. Our plan is to keep the original subdivision as platted. However, we may add a few more lots where land is available, bringing the total to 46-50.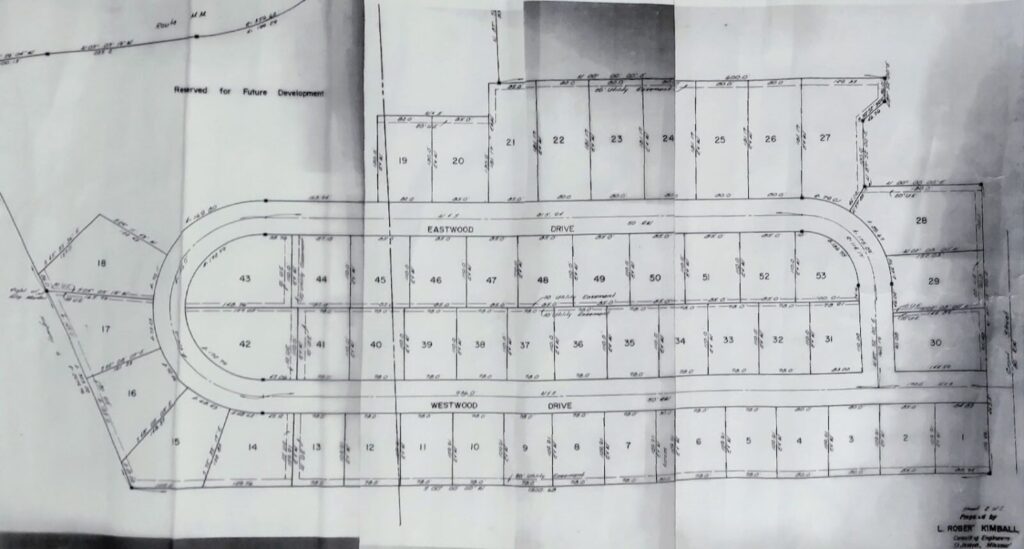 City Ordinance
The City is fully behind us in developing this subdivision and the ordinance is only one page long! That's a far cry from what it would be here in Colorado.
Private Lender's Role:
We are seeking a private lender to provide bridge financing of $300k and secure the development loan at which time the $300k will be returned. Purchaser to also pay the lender(s) carrying/interest charges estimated at approximately 10% per annum. The investor will receive 3 points on the $300k plus 50% IRR on all capital at risk during the development. If we don't find an investor with the full amount we'll structure this as a JV or Syndication. The minimum investment will be $50k.
We are estimating a maximum maturity date of 24 months from the date of issuance. Security provided by the Trust Deed in the property located in Westwood Subdivision, Gallatin, MO. We will be selling some of the homes using a lease-option and the lender(s) will have first right of refusal on these homes.
This page is not a complete description of the financing and does not constitute either an offer to sell or an offer to purchase securities.
List of Things to Complete:
This phase will complete the acquisition and development of the project. This phase will be complete when we have approximately 42-46 buildable lots completed. The infrastructure budget contemplates the completion of engineering, the stubbing in of water, sewer, gas, and electrical utility lines, as well as the completion of two streets, curbs, and gutters. The total estimated budget provided by the engineering firm is approximately $482,500.00.
Estimated Infrastructure Budget Detail:
This budget is based on the engineering estimate:
Estimated Critical Path:
We will close on this property purchase the second or third week in July 2022. Upon closing, we will begin infrastructure work, based on engineering plans. We expect to complete all infrastructure work on October 15th, 2022. In as much as we will be pre-selling lots and homes within the subdivision as soon as the closing date, we will be ready to begin breaking ground on homes as soon as the completed infrastructure for that home allows. This could be earlier than 10/15/2022, but most likely will begin on or around that date.
Walk-Through Notes:
Property Size/Other Dimensions: approximately 16 acres. Lot sizes; start at about 8,600 square feet, with lot prices starting at $25,000 and going up to $35,000 for premium lots.

The property sits mainly on an elevated rise, with a large portion on a slope. This requires the property to have and maintain a retention pond that could be used as a recreational area if managed properly.
Meet The Kokomo Construction Team
CEO – Mark Beach has over 30 years of experience in banking, construction finance, and construction operations. He began his construction career managing the infrastructure contract between Disney and the French government. Later, he consulted Disney's EuroDisney construction operations focusing on supply chain, contract administration, estimating, and other administrative functions. Later, he consulted KFC-Canada with real estate acquisitions. He has helped raise a total of $250 million in capital for real estate developers and assisted developers in turnarounds and recapitalizations. Mark is a creative problem solver and has worked on many real estate deals of his own.
.
General Manager – Matthew Beach started gaining experience in the construction field at a relatively young age (15 years old) working summers for local general contractors and taking construction classes in high school. After High School, he built homes for several more years working for general contractors and was promoted to the main foreman. He obtained his general contractor's license and started his own building company while working for other general contractors when work was available. Matthew has owned and operated his own building construction business for nearly 25 years. He worked as assistant superintendent for R&O Construction building part of a mini-mall in St. George, Utah, and served as a foreman to other union construction companies. He has worked as Executive VP for MCK Construction and he has been an active member of the Carpenter's Union for nearly a decade. Matthew has almost 20 years of experience building commercial buildings, hospitals, grocery stores, bridges, and even a major addition to the Fresno city zoo in California.
Interested?
Reach out to James Brown at 303-979-4738 or Toby Hanson at 720-352-1521 for a Term Sheet and/or click here to set up a Zoom to go over the opportunity.
---